A COUNTYWIDE READING CAMPAIGN


Stockton-San Joaquin County Public Library is proud to provide an opportunity for the San Joaquin County residents to enjoy reading together by participating in our 2016 One Book, One San Joaquin program!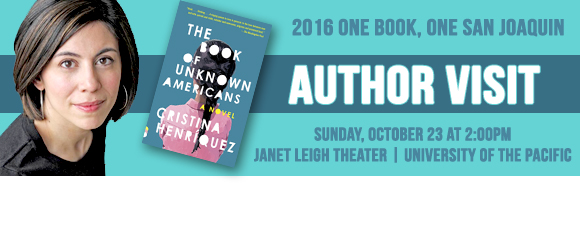 BOOKS CHOSEN FOR ONE BOOK ONE SAN JOAQUIN


The Book of Unknown Americans by Cristina Henriquez (Adult Book)
American Born Chinese by Gene Luen Yang (Teen Graphic Novel)
The Land of Forgotten Girls by Erin Entrada Kelly (Children's Book)
ADDITIONAL PROGRAMMING
Human Library Experience - an adult centered program that provides people the ability to "check out" a person to hear their story of coming to America. This program will be held at the Ripon Branch Library on Monday, October 17th from 6:00pm - 7:00pm. Come here the stories of 6 different people from varying countries, ages, backgrounds and reasons for traveling from their country of origin to the United States.


Dance Around The World - a family centered musical program that teaches dances and songs from all over the world
Comic Book Creation - a teen centered program instructed by Carlos Nieto that teaches teens how to create their own comic books
Be sure to pick up one or all of the ONE BOOK, ONE SAN JOAQUIN chosen books at your local branch library.
Or download via our Digital Book Provider - OVERDRIVE