Stockton - San Joaquin County Winter Reading Program
Feed the Curious Mind | Read the Books | Win the Prizes



Pick up your reading logs today at your local SSJCPL branch.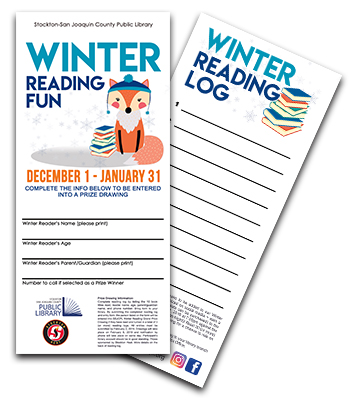 Read to win HOCKEY GAME TICKET
VOUCHERS and a chance to RIDE THE ZAMBONI during game break!
Made possible by the
Stockton Heat Hockey Team!



Check out the calendar of events for a listing of Winter Reading Events!


Special thanks for the funding of Winter Reading by the following agencies:
Library & Literacy Foundation for San Joaquin County, Friends of the Stockton Public Library, and the Friends of the Library in other participating cities.
Prize Details:
Kids ages 0-12 are required to read 10 books to be added to our Winter Reading "Smart as a Fox" list and be recognized on social media + earn a voucher for you and one parent (additional tickets can be purchased) to the Stockton Heat Hockey Game on Friday March 1, 2019 at 7:00pm against the San Diego Gulls (also their promotional Mardi Gras Night)! Read 30 (or more) books to be entered into our GRAND PRIZE drawing for a chance to ride on the Zamboni during that same night! List the book titles on the reading log, and return the log to your library branch to be entered. Ticket Vouchers must be redeemed at SMG Box Office located at 248 W. Fremont Street, Stockton, 95203. Voiuchers available while supplies last.

Reading logs must be turned in no later than February 2, 2019 to any SSJCPL branch. Prize Drawing will take place on February 6, 2019. Winners will be notified by phone as provided on the reading log. Library account should be in good standing in order to win. Children 5 years or younger must be accompanied by an adult if selected for grand prize drawing ride on the zamboni.



Save
Save
Save
Save
Save
Save
Save
Save
Save
Save
Save
Save
Save
Save
Save
Save
Save
Save
Save
Save
Save
Save
Save
Save
Save
Save
Save
Save
Save
Save
Save
Save
Save
Save
Save
Save
Save
Save
Save
Save
Save
Save
Save
Save
Save
Save
Save
Save
Save
Save
Save
Save
Save
Save
Save
Save
Save
Save
Save
Save
Save
Save
Save
Save
Save
Save
Save
Save
Save
Save
Save
Save
Save
Save
Save
Save
Save
Save
Save
Save
Save
Save