Strategic Plan - A Living Document

Beginning in 2014 The Stockton-San Joaquin County Public Library set to work on the goal of developing a comprehensive strategic plan for library operations. The Library sponsored a series of town hall forums throughout the county to seek input from the public on the role of the Library in the community and expectations for library services in the future.
In addition to the Town Hall Meetings held, telephone questionnaires also were conducted in an effort to allow another format for the general public to share their thoughts about the future of the Stockton-San Joaquin County Public Library.
The perspectives and viewpoints shared during these forums and phone conversations played an essential role in assisting to craft the Library's strategic priorities for its immediate and long-term future.
The skilled and talented staff of the Library culled the information to come up with a Strategic Plan and and Implementation Plan that now help guide us to continually growing into the best possible service and information based community organization that we can be.
The Library Strategic Plan - A Living Document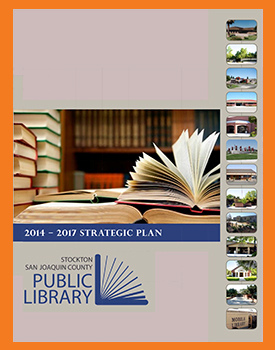 The Library Implementation Plan - A Living Document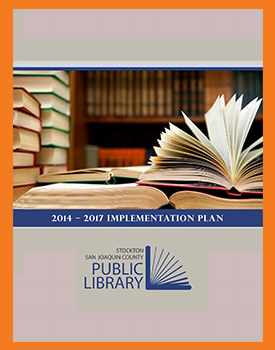 The Strategic Planning Team:
Circulation Assistant I, Bushra Kahn
Library Assistant I, Candace Williams
Librarian II, Gretchen Louden
Librarian II, Anne Stevens
Supervising Librarian, Debra Furtado
Supervising Librarian, Susan Johnston, Retired
Administrative Analyst II/Community Relations, Heather Mompean
Senior County Administrator, Chris Rose
Deputy Director of Community Services/City Librarian, Suzy Daveluy