Escalon Branch Library
Branch Librarian
Jamie Turner
1540 Second Street
Escalon, CA 95320-1938 Map
Upcoming Events
More....
About The Library
The Escalon Branch Library offers two catalog computers, six computer workstations for general and Internet use, black & white printer (no color printer), a reference collection, and a circulating collection of library materials. Newspapers (including The Escalon Times from July 4, 1924) are available for browsing.
The branch also has a typewriter and Microfiche/Microfilm readers without printers.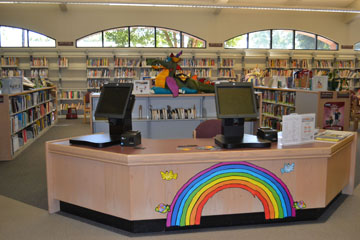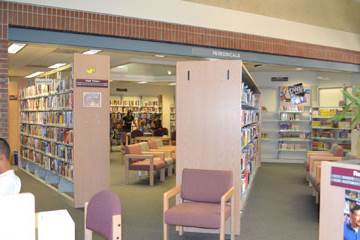 (Top) Self-check area; (Above) Guest in the Library.
Recent Events at Escalon
On Going "Friends of the Escalon Library" Booksale.
Every 2nd Tues 3:30-5:00 Pre-Teen & Teen Anime Program.
Up coming Events at Escalon
Oak Valley Oak Society Art Show
Oct 18 (Sat) 12:00-5:00 and Oct 19 (Sun) 12:00-4:00
For other events see calendar.
About Escalon
City web site: www.cityofescalon.org
History: Books, etc. [Library catalog search]
Newspapers: local papers [Library system web site]
Stockton-San Joaquin County Public Library News