Fair Oaks Branch Library
Branch Librarian
Milo S. Rook
2370 E Main St
Stockton, CA 95205 Map
Upcoming Events
More....
About the Library
Located at 2370 E. Main St. in Stockton, the Fair Oaks Branch Library reopened its doors on May 15th, 2017.
The Fair Oaks Branch offers a variety of materials to browse and borrow including:
Fiction and non-fiction books,
Graphic novels,
EZ Readers,
DVDs,
and CDs for children, teens, and adults
A selection of all of the above in both Spanish and English!
Visitors to the Fair Oaks Branch can sign up to use our laptops with Internet access, try out the Osmo on our iPads, enjoy informative YouTube videos on our Smart TVs, try your hand at our game console loaded with innovative and unique video game experiences, and utilize our MakerSpace area complete with sewing machines, 3D printers, video and audio editing software, LittleBits circuitry, and more!
As part of the Stockton-San Joaquin Library system, patrons can request material from other branches and pick them up from the Fair Oaks Branch with their library card.
Find out how to sign up for a Stockton-San Joaquin County Library card!

Returning Library Materials
Fair Oaks Library materials may be returned at any Stockton/San Joaquin County Public Library. Return materials inside the main library during open hours or use the outdoor book drop when we're closed! Note: Link+ materials must be returned inside the library. Please never return Link+ materials in the bookdrop.
Donating Materials & The Friends of the Stockton Public Library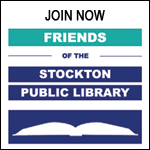 You may donate materials to the library during open hours. The Fair Oaks Branch library accepts books, DVDs, CDs, Legos, and video games and game consoles. Donated materials may be added to our collection for circulation, used for branch events, or sold at The Friends of the Stockton Public Library Bookstore.
The Friends of the Stockton Public Library help support the library by purchasing materials and funding programs.
The bookstore is located at 1724 W Hammer Ln. in Stockton.

You may also donate funds directly to the library.
About Stockton
City web site: www.stocktongov.com
Newspapers: Local Papers
Tourism: www.visitstockton.org